Dongguan Xiongke Electronic Technology Co., Ltd.
E-Mail:mrzhu@skautoled.com
TEL:+86 0769-27380806
Address:Floor 3, Bldg. A, No. 107, Xinfeng West Road, Shijie, Shijie Town, Dongguan, Guangdong, China
Blue Rotating LED Ambulance Flashing Lights Bar and Siren
Blue Rotating LED Ambulance Flashing Lights Bar and Siren
Model NO. LBSK-C205-BLUE
Minimum order quantity:1 set
Accept Min order:Yes
Supply Ability:2000.0 set / Month
Country of Origin:Shenzhen or Guangzhou
Product Description
Power:200W
Light source:COB LED
Size:120*30*115CM
LED Color:Red; Blue; Amber; White;
PC Lighthouse color:Clear; Red; Blue; Amber;
Flash modes:16 patterns
Accessories:Steel Bracket and hooks set
Function:Warning
Waterproof rate:IP67 100% Waterproof
Package:1pc/ctn
Voltage:DC 12-24V
Place of Origin:CN
Warranty:12 months
Type:LED light bar
Certification:CE, ECE, Rohs
OE No.:no

200 WATTS COB AMBULANCE LIGHT AND SIREN
360° LIGHTING LED

C205 series lightbars are specially designed to meet different market needings and could be fitted on trucks, cleaners and sweepers, tow recovery, construction, road service and assistance, fire engine, special convoys, and etc., providing the high performance and efficiency lighting and warning.

BLUE is the popular color for AMBULANCE, and its vast and deep sea color gives people calmness and hope besides hazard warning.

Built-in Speaker
Rectangle COB Lens:

the smart optical lens design provides exceptional 360 degrees coverage lighting, its high penetration achieves a superior off-axis warning around lightbar.

Dimming option increase security:

16 patterns of flash modes to meet multiple warning needs, succeed in grasp peoples' attention.

Energy saving & enviroment friendly:

The new chip on board (COB LEDs) design makes it attractive and friendly to the environment for its high power and low consumption.

Warranty:

12-month / 1-year

12V LED FLASH LIGHT BAR WITH ALARM

Combine with a light bar, our emergency vehicle sirens and speakers grasb the attention of drivers to clear the path for the ambulance car or police car to safely arrive at the scene.
LED WARNING LIGHTS BAR

PRODUT FEATURES

Offroad LED bar lampshape:

The lampshade is made of high strength polycarbonate, which is toughness, anti-aging, and resistant to extrusion and external force.

Construction of lamp:

A set of iron metal brackets gets screwed onto the aluminum bottom plate, and steel hook set helps to grasp the top roof from oposite side doors of any vehicle. And it is adjustable.

4pcs of flat rubber pads on branket stand aim to protect the mount surface.
Lightbar power cord:

The high qualified power cord prevents brittleness and hardening, and can remain soft at low temperatures.

Handheld microphone:

Its clear and lound voice enhance the hazard warning function.

Inclusive of flexible cable, and metal hook.


The metal hook can be fixed to any place, and microphone can be hung up on it.

Plug for handheld MIC:

The plug is configure connector gets joint of car horn and microphone.
VEHICLE EMERGENCY LIGHT BAR
SELLING POINTS
Super bright imported LED bead lamp accessories are complete and easy to install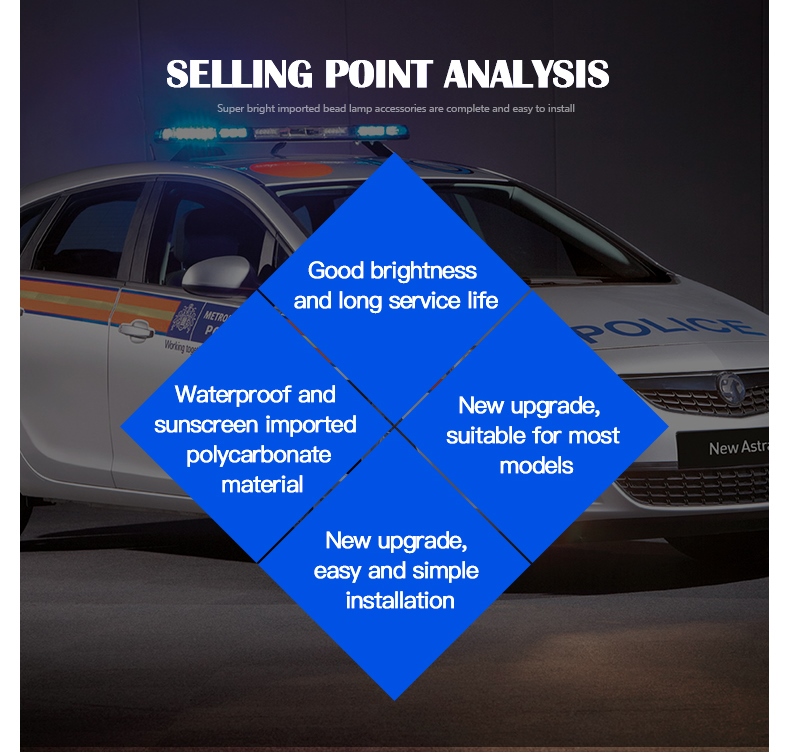 Low-profile,linear-shaped LED light bar combines effective warning with the tactical benefits of flood lighting capability is Widely used for ambulances, fire engines, police cars, patrol cars, shool buses, and other ground vechicles.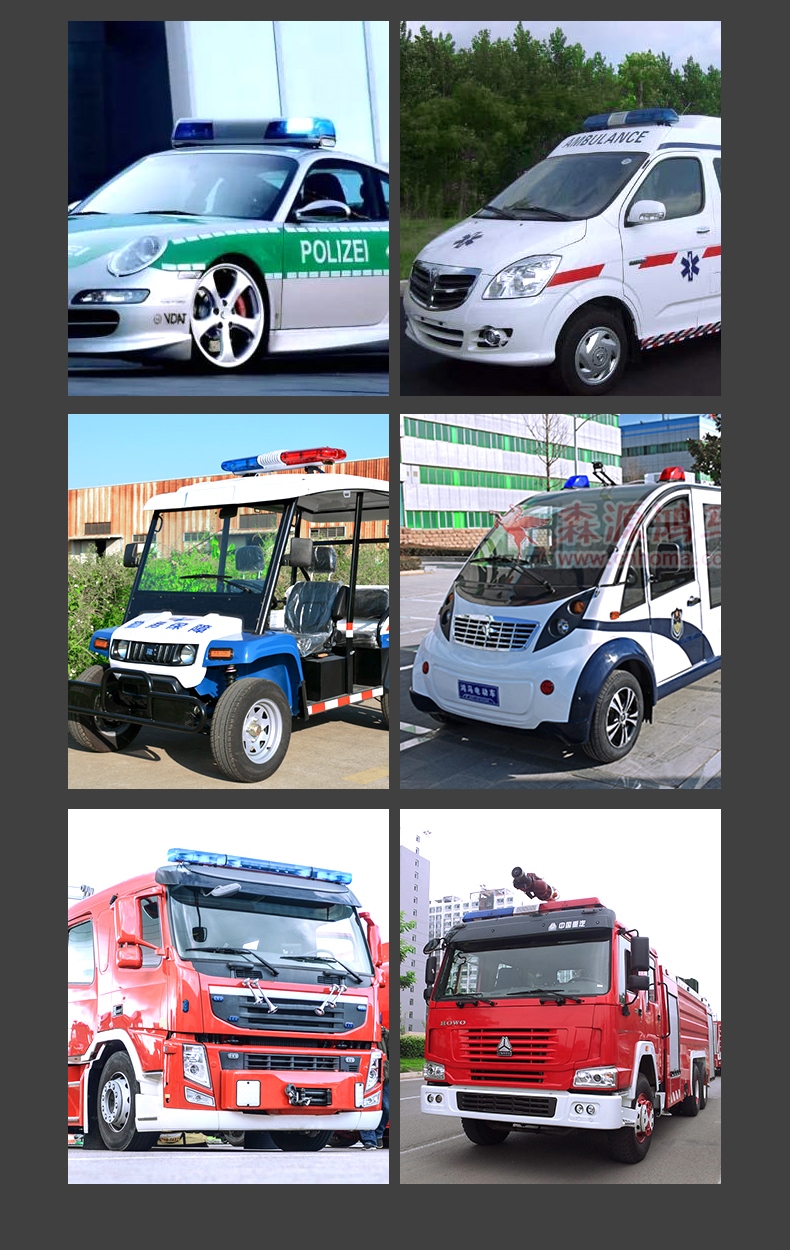 WATERPROOF AUTO LIGHTING SYSTEM
Just because the lightbars are top roof-mounted, waterproof is a key concern for most customers.
PC housing is not only strong enough but also weatherproof.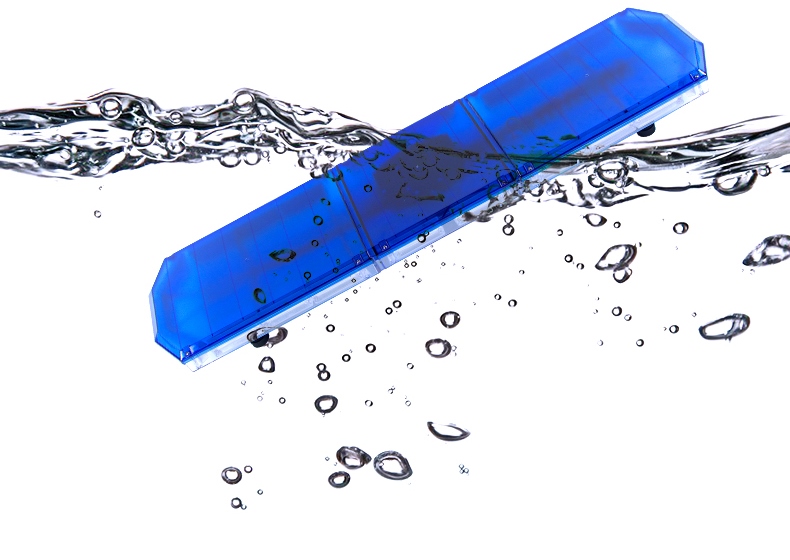 This distinct modern shaped linear lightbar with built-in blue-color LED technology allows for a single light to change flashing patterns while in operation, providing 360-degree of the continuous light output from takedown and alleys to an impressive flood feature. Use its all blue-flood light to locate a suspect.
Bi-color and multi-color are selectable, and flash patterns to safely can be customized for direct traffic.